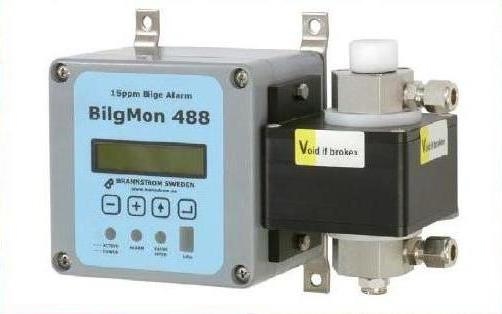 BRANNSTROM- PARTNER
CMA Official partner of Brannstrom's Bilgmon 488 , 15ppm Bilge Alarm oil content meter.
Unique system on board replacement the measuring cell

Measuring cell simple to replace due to wireless design

Easy to operate due to only 4 push buttons

User friendly menu

Compact design

32 character LCD with LED background light

Relays and input are protected by "PTC" resistor fuse. Fuses are reset by disconnecting the power supply – no regular fuse to replace

System runing status snhown in LCD in real time

Suitable for new building and existing ships

Can be attach to any Oily Water Separator type
Bilge Alarms for the marine market, are designed to measure the oil content in contaminated bilge water, in accordance with the MARPOL regulations.
The 15 ppm Bilge Alarm type BilgMon 488TM, is designed to meet and is certified in accordance with the new IMO resolution MEPC.107(49)
The oil content is often measured by the use of scattered IR-light, and this unit has a unique measuring cell for receiving and analysing a continuous sample flow through the cell. The measuring cell can easily be maintained or exchanged by the onboard crew.
All sample data is transferred into the processor of the unit, which after processing gives a PPM-value of the oil content which is presented at the display. Process data is stored within the units memory module. If the oil content exceeds the 15 PPM limit, the unit will activate an alarm, and stop the overboard discharge.
For Inquiries please contact us