CMA GREECE – Automation is our Business

CMA operates in Marine automation since 1987, based in Piraeus in private building of 1.400 square meters.
The name was given by Control Marine Automation (aka CMA) and was founded by Dimitris Argoudelis which currenlty has the chairman position. From the year 2000 his sons Ioannis Argoudelis and Nikos Argoudelis had entered formally into the company as shareholders and partners. With their engineering and managerial skills Ioannis and Nikos are leading now CMA securing a better future for the company growth and prosperity.
More than 40 experienced persons are within the company's operation, divided in different sectors having excellent skills and continuous training for the development of our firm with first priority to satisfy our clients demands.
In compliance with ISO 9001: 2008 certified from ABS for: design, manufacture, maintenance, installation and sale automation systems. Download ISO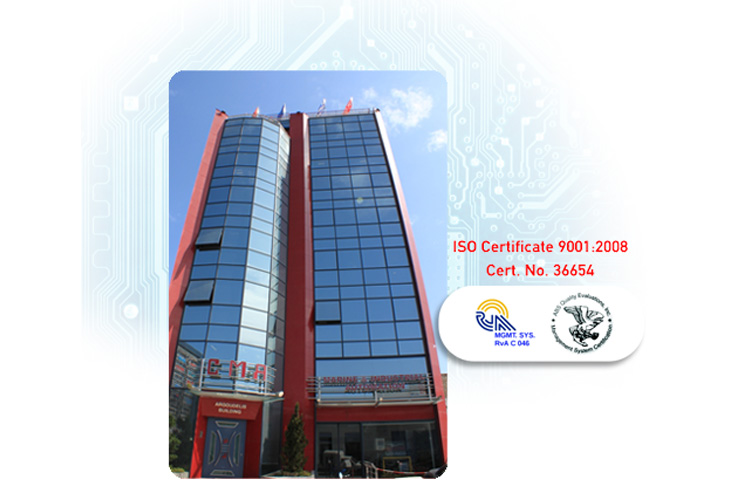 The company structure consists of the following departments:
Commercial (Supply of instrumentation and automation systems)
Electronics / Electrical (support, programming, repair, electrical and electronic units as well as development of automation panels and systems)
Mechanical / pneumatics (support ,repairing of pneumatic and hydraulic automation equipment)
Production / Workshop (manufacturing of temperature sensors & level switches )
Calibration (for temperature, pressure and industrial signals)
Works and technical services.(Providing services on board worldwide)
Marketing (marketing communication, product launch, exhibition/event planning)
R&D (Design, develop and test new electronic products, upgrading existing ones)
OUR FACILITIES GALLERY