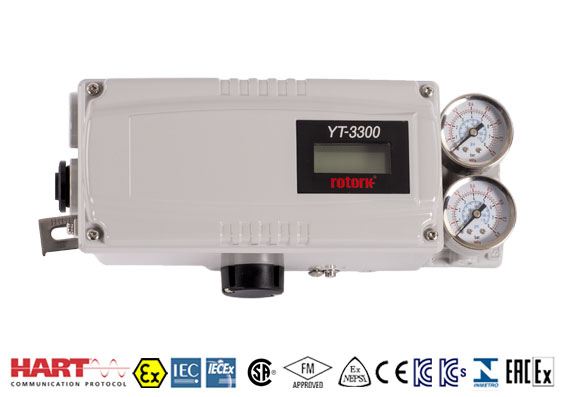 Smart Positioners YT-3300 / YT-3303 / YT-3301 I YT-3350
Torque motor technology with communications
Design features
🔴Auto calibration. Simple menu structure with options to auto calibrate all parameters or zero and end points only.
🔴LCD display. Alphanumeric digital display for process values and calibration.
🔴Partial Stroke Test (PST). Fully adjustable Partial Stroke Test. All functionality can be performed and selected locally, through push buttons, or remotely with communication protocol.
🔴Feedback signal. Analogue and digital feedback signals with 4-20 mA, mechanical and proximity switch options (Limit switch options for YT-3300 and YT-3350 models).
🔴PID control. Pre-calibrated and user configurable variables via front panel pushbutton menu.
🔴Auto/ Manual switch. Enables closed-loop automatic valve position control or manual positioning via the A/M switch. The manual mode is useful for troubleshooting, calibration, system testing or as a manual bypass.
🔴HAR-re communication. Allows commands, position feedback and diagnostics to be sent digitally over the current loop.
🔴Front panel pushbuttons for configuration. Four robust and positive acting pushbuttons for field configuration.
🔴Remote Mounting Option (YT-3301 model).
Remote sensor via cable to enable the positioner to be mounted away from extreme temperature.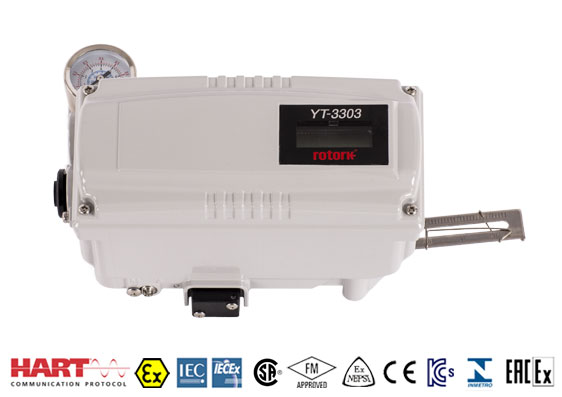 Smart Positioners YT-3700 / YT-3750
Digital smart position er with enhanced diagnostics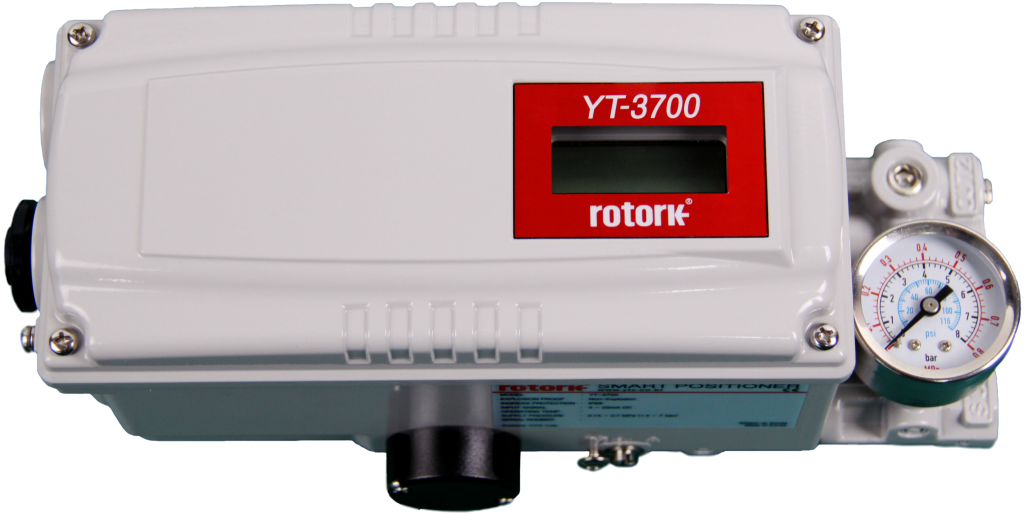 Design features
🔴Enhanced diagnostic (including offline and online) to fully check the integrity of the system. Valve signature, advanced step tests and Partial Stroke Testing (PST) can be operated from local or remote positions. Device Description (DD) and Device Type Manager (DTM) files allow for full software compatibility.
🔴Visual diagnostic info to NE107 standard for a user­friendly analysis with a severity alarm scale and a clear visual identification locally on the display or remotely through HAR-re.
🔴Digital input/output configurable depending on the application and customer preferences. Multiple options are available e.g. start a pre-set PST event or receive error alarms, tailoring interaction with the device as necessary.
🔴Auto tuning functionality.
🔴Non-contact sensor for increased performance for high frequency operating valves and an enhanced lifetime.
Please call CMA's Sales Team

Telephone: +30 210 4615 831
Email: sales@cmagreece.com