Parker Lucifer offers premium valves for use in hydraulic, pneumatic, instrumentation, refrigeration and aerospace applications, available in a variety of types and configurations. Parker valves can be manual, motor actuated or solenoid air operated and electrically actuated, while mounting configurations can be sub-based, in-line or manifold.
CMA D. ARGOUDELIS & CO S.A. supplies a wide range of high quality Parker Lucifer solenoid valves to suit a broad range of fluid control applications. As leading distributors of Parker Valve products, CMA offers an extensive selection of the Parker Lucifer solenoid valve catalogue.
Sizes range from G1/8 to G3, with Kv as high as 1385 L/min. Pressure capabilities range up to 100 bar; the whole range is available with various seal materials, such as NBR, FKM, EPDM, PTFE, PCTFE, PUR and Ruby. Brass, stainless steel and plastic valves are available to control a wide variety of air, neutral gases and liquids, water, oils, process fluids and steam.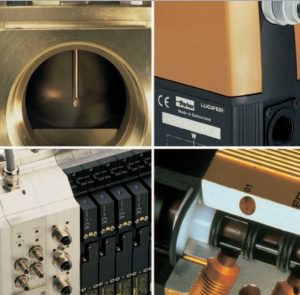 Below, we offer more information about the range of Parker solenoid valves, available to purchase from CMA:
• 2/2 way valves
2-way acting solenoid valves from Parker Lucifer are suitable for a range of direct acting and pilot operated models. Their 2-way solenoid valves are also available as a normally closed or normally open, operating component.
2-way Parker Lucifer solenoids are also manufactured using brass or stainless steel. Their compatibility with a range of liquids and gases makes them extremely versatile when it comes to hard-wearing applications. These valves are also available in sizes between G1/8 and G3, with pressure up to 100 bar.
• 3 & 4 way valves
Parker Lucifer solenoid valves are also available as 3-way and 4-way direct operational valves. 3 and 4 way valves are often used in demanding applications, which require additional connecting ports. Common applications for a 3 or 4 way solenoid valve include the medical and energy industries. Four way Parker Lucifer solenoid valves are also used to control single or double acting cylinders. They feature a fast response time, low lubrication and offer a long service life, making them the perfect, low maintenance component.
• Explosion proof solenoid valves
Available in the Parker Lucifer product range is a unique range of coils and housings. This modular concept enables many application requirements to be met, especially in the various explosion-proof protection classes. The full range of explosion proof solenoid valves conform to the latest ATEX standards, meet full European standards as well as U.S. NEMA and UL standards.meet full European standards as well as U.S. NEMA and UL standards.