CMA D. ARGOUDELIS & CO S.A. has signed a contract agreement with BRANDTALES LTD as Authorized Distributor of WiWell Products in Greek Market.
WiWell is the nanometric photocatalytic additive we designed and developed to sanitize air in a very easy, natural, eco-friendly way and with no aesthetical impact. WiWell products is the first passive air cleaner in the world, innovative and furnishing, available to everyone. Also, is a passive customizable air cleaner: available in different sizes and materials (conceived with the aim not to alter the existing design), design and graphics at your choice, customizable layout. It can easily integrated within any indoor space, giving birth to an "artificial wood" that significantly improves the quality of the air.
All solutions from WiWell is in a very simple, natural, eco-friendly way and with zero aesthetical impact. By means of a photocatalysis process, WiWell eliminates and transforms all agents that gives rise to indoor pollution, bringing the benefits of the sun in every room. By oxidation, polluters are processed into harmless salts and carbon dioxide. WiWell has an anti-microbial, virucidal, anti-bacterial, anti-mold and deodorizing action, thanks to a strong oxidation provoked by the combination of nano-technologies and light source.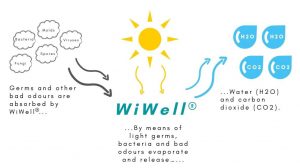 The WiWell film cleans and sanitize the air and interior surfaces from all germs and the Sars-CoV2 virus that causes Covid-19 by 99% of the area where it is placed. It can be placed on the windows or on a poster – photo with a free image choice and dimensions according to the space capacity we want to consolidate. This technology does not include harmful ingredients to humans or the environment (such as UV-C lamps, ozone or chemicals) or ingredients that damage the surfaces on which it is used.
It holds CE certification as well as measurements performed by competently certified laboratories, such as Mario Negri, IRCCS Milano, Euro Chem 2000 srl, etc.
The product is of italian origin and has been placed in various interiors (buildings, offices, boats, short and long distance ships, such as ships traveling in Venice, Actv Venezia bus navi e vaporeti, etc. ) in Italy, Greece and other countries, as well.
We believe that this co-operation we will provide the best solutions covering the needs of our customers.