CMA D. ARGOUDELIS & CO S.A. Company offers their automation services & knowledge to the Athina Maritime Learning and Development Center (MLDC), which has been established as the exclusive maritime training organization for Minerva Marine Inc.
The simulation equipment for automation system which includes temperature pneumatic & electropneumatic controller, pneumatic & electronic differential pressure transmitter, pneumatic positioner & pneumatic cylinder positioner, pneumatic components for maneuvering systems are some of the donations of our company to the Athina MLDC.
All the above are being demonstrated in training sessions by the Chief Service Engineer of CMA Mr. Marinos Gkikoudis, who has at least 30 years of experience in the field of shipping automation.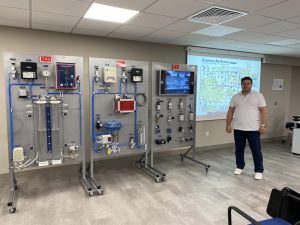 Athina MLDC has become a world class training center, providing quality maritime education and training to seagoing personnel by seasoned professionals making use of state-of-the-art facilities being supported by an integrated maritime learning and competence development system.
We would like to thank the shipping company Minerva Marine & the training center Athina for trusting CMA and it's technical staff's services for so many years!