CMA D. ARGOUDELIS & CO S.A. & TNL GROUP are pleased to announce the signature of a "Memorandum Of Understanding" (MOU).
The agreement aims to strengthen the strategic collaboration between CMA and TNL, focusing on providing integrated project-based solutions in the Shipping Market of the Eastern Mediterranean. The vision is to ride the global wave of digitalization and signify the vital role of Automation and Marine Electronics in the shipping industry of the new generation. Both organizations aspire their agreement to contribute to the acceleration of the global roll-out and enable greater efficiency and significant cost savings.
"We are delighted to work with TNL on this important collaboration. CMA is leading the market in maritime autonomy and are involved in several projects that define the remote and autonomous vessel control systems for tomorrow. At CMA, we believe that digitalization and enhanced automation are vital to ensuring a safe, sustainable, and profitable future for the maritime industry." Ioannis & Nikolaos Argoudelis – CEO's of CMA D. ARGOUDELIS & CO S.A.
"Building The Navigation Leader of the new era, the agreement with CMA will play a significant role. TNL stands in the forefront of the technological evolution of marine electronics since its establishment. We develop integrated tailor-made solutions and provide excessive technical services to our customers. CMA is the ideal partner in our effort to materialize our vision for gradual and consecutive improvement, innovation and market diversification". Evangelos Andriotis, CEO & Panagiotis Spanos, MD – TNL Group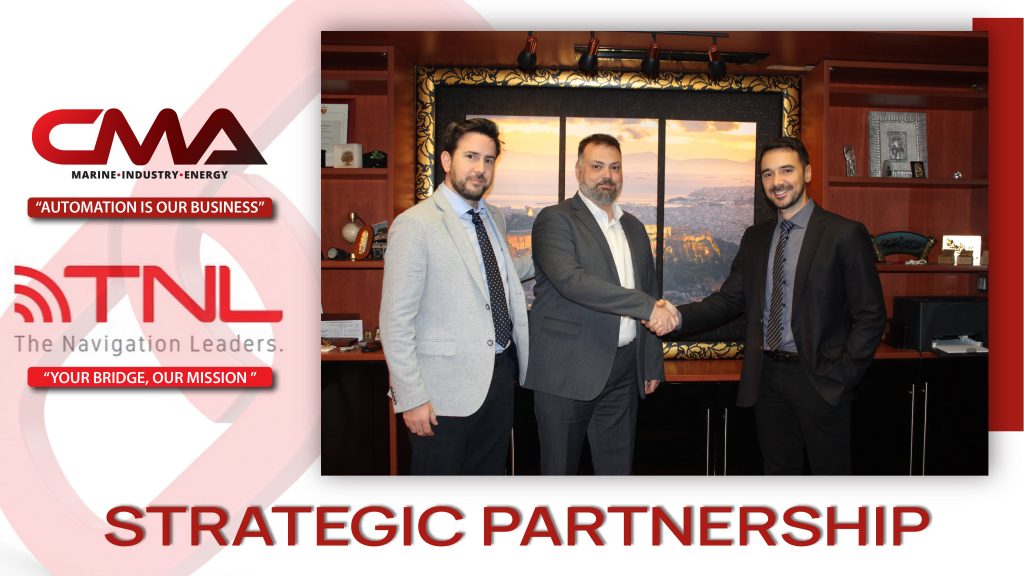 About CMA D. ARGOUDELIS & CO S.A
CMA D. ARGOUDELIS & CO S.A is one of the leading companies in the field of Marine & Industrial Automation which is offering products and services worldwide for more than 35 years. It is located in Piraeus in a privately owned building 1400m2.
It is certified with ISO 9001:2015, ISO 14001:2015, ISO 45001:2018 from ABS, a global leader in providing classification services for marine and offshore assets. The certificates are applicable to design, manufacture, installation, service, maintenance, commerce, trade and sale of electrical, electronic, pneumatic, hydraulic, automation parts, panels and systems in marine, industrial and energy market. Also, CMA recently managed to be certified according to ISO 22301:2019 & ISO 27001:2013 standards, from the largest purely Greek Certifications Company named EUROCERT.
CMA is also a member of major global associations in the marine market for the supply of its products.
For more information, CMA D. ARGOUDELIS & CO S.A, Marketing and Communication Department, Mrs. Georgiou Katerina, tel. +30210 4615831 ext. #342, fax: +30210 4615832, email: k.georgiou@cmagreece.com and website www.cmagreece.com.
About TNL GROUP
TNL Group comprises The Navigation Leaders in the South-Eastern European Shipping Market. TNL has been established in 2002; the Headquarters are located in Piraeus, the heart of the Greek Shipping Industry, and operates a branch in the evolving market of Limassol in Cyprus.
TNL stands in the market for the most famous Marine Electronics manufacturers: JRC – Alphatron Marine, Raytheon Anschutz, Kongsberg, Simrad, FLIR, Intellian, and Pole Star are among a long list of others. Our sales experts can develop budget-adjusted solutions for Navigation, Communication, Steering, Safety, peripherals, and spare parts to provide holistic support to any type & size vessel. TNL's highly efficient Technical Dept is manned by 16 experienced and duly trained engineers, who, along with our wide service network, provide high-quality touch-the-vessel services almost at any known port of the world.
TNL carries approvals by the majority of the IACS Classes: BV, DNV, LR, ABS, NKK, CCS, RINA, RMRS, KR, IR, PRS, the Greek Flag Authority to carry out GMDSS Surveys, and VDR APTs. TNL is also certified under ISO 9001:2015, ISO 14001:2015, ISO 27001:2013 & ISO 22301:2019 standards for its compliance with the highest Shipping Industry requirements.
TNL's unique 24/7 SUPPORT provides our customers with Professional remote troubleshooting, world technical service coordination, and logistics assistance around the clock.
TNL has the knowledge and the capability to undertake the analysis, development, and delivery of highly sophisticated projects, supplying a wide range of specialized products and innovative services that meet any commercial or military Standard and requirement.
For more information, TNL Group, COO, Mr. Paschalis Zaitidis, Tel. +30210 4121566, Fax: +30210 4226042, Email: info@tnlcom.gr Website www.tnlcom.gr