CMA D. ARGOUDELIS & CO S.A. in collaboration with PR Electronics specializes in products with applications in Wind and Solar energy, offering solutions making a great impact in the Greek Market.
In the processes that transform solar energy into district heating and electricity, signal conditioning modules from PR electronics contribute by isolating signals as well as by converting analogue and digital signals.
See below some solutions of the tasks performed by modules from PR electronics at solar heating plants and solar power plants.
Photovoltaic solar power plants
Readout of wind speed and control of the solar trackers with display 5714.
Measurement of oil temperature in the primary circuit and water temperature in the secondary circuit with 2-wire transmitter 5333.
Measurement of water temperature in solar heat collectors and water tank with 2-wire transmitter 5333 / 5331.
Isolation of temperature signals (cables from solar heat collectors to pumping station and control panel) with transmitter 4116 / 5114 or signal isolator (4184 / 3104).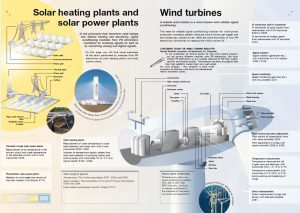 A reliable wind turbine is a wind turbine with reliable signal conditioning.
The need for reliable signal conditioning modules for wind power production increases steadily because wind turbines get bigger and are increasingly placed at sea.
Here are some examples of how PR electronics contributes to keeping the wind turbines fit.
Conversion f / I and I / f
f/I conversion of pulse signals from anemometer with f/I-f/f converter 5223 or 5225.
I/f conversion of analogue signals from anemometer with I/f converter 4222.
Signal isolation (generator etc.)with universal converter 4114 or isolator 4184 / 5104.
Speed monitoring (gear box etc.) with trip amplifier 2231
Pitch Control & Pitch Adjustment
Pitch control of proportional valve with valve controller 2224. Pitch adjustment of wings with signal controller 2286 or 2289.
Stress measurement (wings and tower) with load cell amplifier 2261
Temperature measurement (oil in gear case and bearings) with transmitter 5331, 4114 or 5114. Temperature measurement with transmitter 4114, 5331 or 5131 during casting and hardening of wings.
For more information please click here.