CMA Partners
WiWell
CMA official authorized partner WippyIdea S.R.L. Greece
WippyIdea S.R.L. focus on designing useful products and solutions: breakthrough, designed to be suitable for any environment, zero-impact, long-lasting, to sanitize and fight against any type of pollution.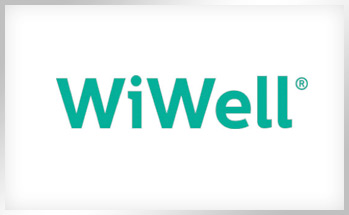 The core element of all their solutions is WiWell®, a photocatalytic additive designed and developed by WippyIdea S.r.l. that sanitises the surfaces where it is applied and the surrounding air. All of this in a very simple, natural, eco-friendly way and with zero aesthetical impact.

By means of a photocatalysis process, WiWell® eliminates and transforms all agents that gives rise to indoor pollution, bringing the benefits of the sun in every room. By oxidation, polluters are processed into harmless salts and carbon dioxide. WiWell® has an anti-microbial, virucidal, anti-bacterial, anti-mold and deodorizing action, thanks to a strong oxidation provoked by the combination of nano-technologies and light source.

Tested as effective against Sars-Cov-2 by 3 different independent laboratories, in Italy and abroad. Also holds all the required certifications for their products & services.
1 SQM OF OUR PRODUCT SANITIZES 60 ÷ 80 CUBIC METERS PER HOUR IF IRRADIATED BY LIGHT, SANITATION WORKS NON-STOP. ONCE THE LIGHT IS OFF, SANITATION GOES ON FOR A COUPLE OF HOURS (SOURCE CNR).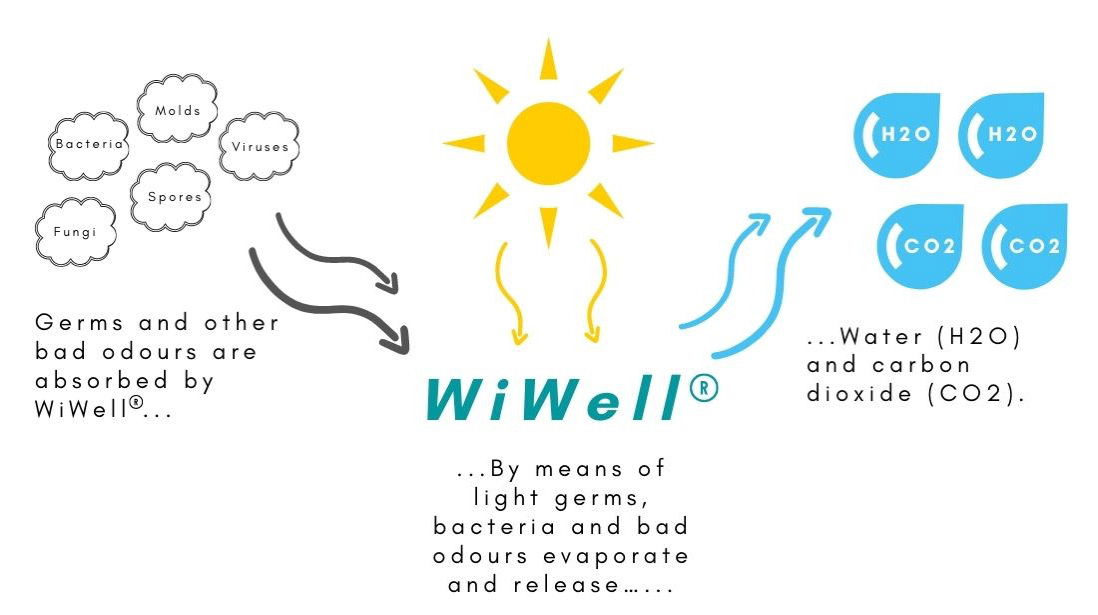 WiPure®
Panels to decorate the environment that enhance your communication and at the same time keep the environment completely and permanently sanitized.

WiPure® is the first passive air cleaner in the world, innovative and furnishing, available to everyone.

WiPure® is a passive customizable air cleaner: available in different sizes and materials (conceived with the aim not to alter the existing design), design and graphics at your choice, customizable layout. It can easily integrated within any indoor space, giving birth to an "artificial wood" that significantly improves the quality of the air.
WiGlass®
WiGlass® the "transparent" and easy solution for all those environments where it is important to preserve the original finishings.

A very convenient and practical transparent one-way adhesive film that keeps the features and properties of the WiWell® system: it can be applied on any smooth surface. Ideal for means of transport, fridges, large windows, cable cars.

  SUGGESTIONS OF APPLICATIONS
RETAIL FOOD AND NON FOOD – OFFICES – WAITING ROOMS – RECEPTIONS – PUBLIC MEANS OF TRANSPORT (TRAINS, BUSES, TAXI, SUBWAY TRAINS)

Applied to walls or cabinets, or as a window sticker for windows and shop windows of any size, it can be easily integrated in every environment and can sanitize the whole room, cabin or interior and eliminate any bad smell.
SweepCart®
PRODUCTS RANGE:
TESTED AS EFFECTIVE AGAINST SARS-COV-2 BY 3 DIFFERENT INDEPENDENT LABORATORIES, IN ITALY AND ABROAD

  Studies have revealed that shopping carts are one of the dirtiest objects in the world.

Taking this as a starting point, and willing to meet the consumer's needs, SweepCart® comes to birth to solve the problems of the sanitation of shopping carts without the use of any dangerous chemicals that could be harmful to man and the environment.

Bacteria and viruses build up a resistance to chemical disinfectants as they become addicted to the active principle of disinfectants, but they cannot develop habituation our technology!

All surfaces of the structure are treated with our protective photocatalytic additive WiWell® (derived from nanometric inert natural minerals), that is able to sanitize the surrounding environment.

It gets rid of 99,99% of bacteria, viruses and any other type of pollutants.